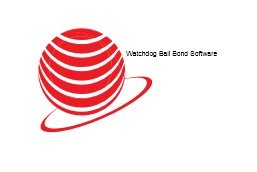 Watchdog Bail Bond Software
Watchdog Bail Bond Software is an affordably feature rich database program designed specifically to fully manage your bail bond business. Intuitively designed, Watchdog Bail Bond Software manages clients from intake through discharge.
Goodbye Spreadsheet
"Step away from your spreadsheet", let Watchdog Bail Bond Software do the work for you.
General Agency, Bond Tracking, Surety functions, and Reporting, a complete turn-key solution.
Business First
Producing database solutions in a wide range of business settings, from a world leader in the insurance and investment business to healthcare, automotive, and our mainstay, the small business owner desiring a high valued fixed price turn-key solution.
Developing stable Microsoft based

products,

for over 10 years.

Associated directly

with the bail bond business and software management development

.